| | |
| --- | --- |
| Server Google: | Watch Full - 1 |
| Server VideoTT: | Full Full |
| Server NowVideo: | Full |
| Server SockShare: | Full |
| Server MuchShare: | Full |
| Server FlashX: | Full |
| Server 180Upload: | Full |
| Server BillionUpload: | Full |
| Server DivxStage: | Full |
| Server NosVideo: | Full |
| Server ShareRepo: | Full |
| Server TheVideo: | Full |
| Server VidTo: | Full |
| Server Bestreams: | Full |
| Server ShareSix: | Full |
| Server ShareXvid: | Full |
| Server MightyUpload: | Full |
| Server HugeFiles: | Full |

Vote
(Total
1
Votes )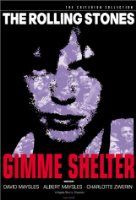 Movies:
Gimme Shelter
Director:
Albert Maysles, David Maysles
Cast:
Mick Jagger, Keith Richards, Mick Taylor
Production Co:
Maysles Films, Penforta
Genres:
Documentary | Music
Total:
1
Runtime:
91 min
Country:
United States
Release Date:
1970
In December of 1969, four months after Woodstock, the Rolling Stones and Jefferson Airplane gave a free concert in Northern California, east of Oakland at Altamont Speedway. About 300,000 people came, and the organizers put Hell's Angels in charge of security around the stage. Armed with pool cues and knifes, Angels spent the concert beating up spectators, killing at least one. The film intercuts performances, violence, Grace Slick and Mick Jagger's attempts to cool things down, close-ups of young listeners (dancing, drugged, or suffering Angel shock), and a look at the Stones later as they watch concert footage and reflect on what happened...